Teaching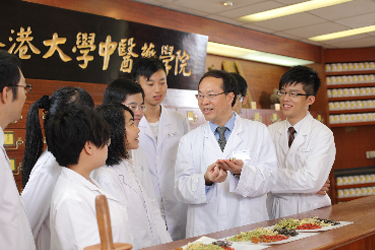 The School of Chinese Medicine, The University of Hong Kong started its full-time Bachelor of Chinese Medicine (BChinMed) programme in 2002 for the purposes of nurturing high-quality Chinese medicine professionals and promoting the modernization of Chinese medicine. This programme aims at providing systematic Chinese medicine education which focuses on Chinese medicine training while complemented by biomedical science and clinical practica in Hong Kong and Mainland China. After graduation, students will be eligible to sit for the Chinese Medicine Practitioners Licensing Examination (CMPLE) of Hong Kong.
To further enhance the quality of Chinese medicine professionals and to provide Chinese medicine practitioners, doctors and other related medical professionals with postgraduate study opportunities for reinforcing their basic and specialized knowledge, the School has been offering three part-time taught master programmes.
In order to facilitate the development of research in Chinese medicine and to promote modernization and scientific validity of Chinese medicine, the School is currently training high–quality researchers specializing in Chinese medicine and recruiting Master of Philosophy and Doctor of Philosophy students from different backgrounds such as Chinese medicine, pharmacology and biochemistry.
Full-time Programme
Part-time Programmes
Postgraduate Studies
School of Chinese Medicine provide Bachelor of Chinese Medicine, Master of Chinese Medicine, Postgraduate of Chinese Medicine, Research Postgraduate of Chinese Medicine.