Professoriate Staff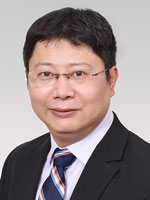 Haiyong CHEN
Assistant Professor,
School of Chinese Medicine,
Li Ka Shing Faculty of Medicine,
The University of Hong Kong
School of Chinese Medicine, The University of Hong Kong, 10 Sassoon Road, Pokfulam, Hong Kong

(852) 3917 6413

(852) 2872 5476
EDUCATION & QUALIFICATIONS
| | |
| --- | --- |
| 9/2009-8/2012 | Ph.D, Department of Medicine & Therapeutics, The Chinese University of Hong Kong |
| 9/2006-8/2008 | MPhil, School of Chinese Medicine, The University of Hong Kong |
| 1/2001-6/2005 | BCM&BSc, School of Chinese Medicine, Hong Kong Baptist University |
| 2007 | Registered Chinese medicine practitioner(Registered No. 005583) |
| | |
| --- | --- |
| 2/2021-present | Assistant Professor, School of Chinese Medicine, HKU |
| 7/2014-1/2021 | Research Assistant Professor, School of Chinese Medicine, HKU |
| 8/2012-6/2014 | Tutor, School of Chinese Medicine, HKU |
Discover molecular mechanisms of acute and chonic kidney diseases and develop therapeutic approaches for these diseases. Promote the mordenization of chinese medicine via the integration of traditional Chinese medicine principles and scientific approaches.
(1) explore the functional role of genes, proteins and signaling pathways, and immune regulations in kidney diseases and metabolic syndromes;
(2) develop therapeutic approaches (gene therapy, Chinese medicine, and active compounds) to prevent and treat kidney diseases and metabolic syndromes;
(3) evaluate effectiveness and safety of Chinese medicine via the evidenced based approaches.
RESEARCH PROJECTS & GRANTS
EXTERNAL FUND/GRANTS
(A) As the Principal Investigator or mentor
Project title: An evidence-based research and promotion of Chinese Medicine for COVID-19 (中醫藥對於新型冠狀病毒肺炎臨床療效的循證醫學證據研究與推廣, Chinese Medicine Development Fund, 19SB2/012A), Principal investigator, $354,000; 1/12/2020-30/11/2021.
Project title: The adjunctive effect of electro-acupuncture for advanced cancer patients in a collaborative model of palliative care: a three-arm pragmatic randomized trial (HMRF, 17181831) , Principal investigator, $1,183,781; 1/9/2020-31/8/2023.
Project title: Blockade of Smad3 attenuates diabetic nephropathy via suppressing C-reactive protein-mediated NLPR3 inflammasome activation (RGC/GRF,      17109019), Principal investigator, $1,008,360; 7/1/2019 - 6/30/2022.
Project title: The role of Lingzhi in kidney injury (Shenzhen Science & Innovation Fund, JCYJ20180306173745092), Principal investigator, RMB¥310,000; 1/1/2019-12/31/2021.
Project title: The latent TGF-β protects against diabetic kidney disease via GARP-latent TGF-β mediated anti-inflammation: mechanism and therapeutic potential (RGC/GRF, 17113416), Principal investigator, HK$ 1,052,563; 1/1/2017 - 31/12/2020
Project title: Chinese Medicine Research Training Programme 2017/18 (Banxia Xiexin Decoction for Weipi (functional dyspepsia): a randomized trial), Mentor, HK$300,000; 1/4/2018-31/3/2021.
Project title: Chinese Medicine Research Training Programme 2016/17 (Sinew acupuncture on de Quervain's Tenosynovitis: a randomized subject- and assessor-blind controlled trial), Mentor, HK$300,000; 1/6/2017-31/5/2019.
Project title: Provision of development of acupuncture on post-stroke overactive bladder (Hospital Authority - General Award ), Principal investigator, Principal investigator, HK$469,261; 01/04/2015 - 01/06/2018.
Project title: Chinese Medicine Research -"Train-the-trainer" Programme 2015/16 (a RCT of acupuncture on knee osteoarthritis), Mentor, HK$220,000; 16/3/2016-30/9/2018.
(B) As the co-Investigator
Project title: The Effect of Acupuncture for Insomnia in Breast Cancer Patients Undergoing Chemotherapy: A Randomized, Sham-Controlled Trial (HMRF, 16172761) Co-investigator, HK$ 1500000; 1/4/2019-31/3/2022
Project title: Investigation on the effect of berberine on the improvement of diabetic retinopathy in insulin-treated diabetic mellitus (HMRF, 15162961), Co-investigator, HK$821,448; 1/4/2018-31/3/2020
Project title: Combined Electroacupuncture and Auricular Acupuncture for Postoperative Pain after Abdominal Surgery for Gynecological Diseases: A Randomized Sham-controlled Trial (HMRF, 13142951), Co-investigator, HK$761,707; 1/7/2016-30/06/2018
Project title: TGF-β/Smad3 mediated programmed death of epithelial cell sensitizes the acute kidney injury in type 2 diabetic mice model (NSFC No. 81570623), RMB¥510,000; 1/2016-12/2018
Project title: The role of WISP-1 in renal fibrosis and it's mechanism (NSFC No.81300618), Co-investigator, RMB¥230,000; 01/2014 – 12/2016
Chan LK, Wong FKY, Ganotice FJA, Lau WCS, Lam TP, Bridges SM, Chan NK, Chan WLP, Chen HY, Chen JY, Chu KPJ, Ho CC, Ho JMC, Chin WY, Harbutt D, Khoo US, Lam SF, Lao L, Leung GKK and Li Q, Bronze in Discipline Award (Life Sciences), in Quacquarelli Symonds (QS) Reimagine Education competition: Interprofessional Team-Based Learning for Health Professional Students, Quacquarelli Symonds. 2016.
Chen HY, Feng Y and Lao L. Chinese Medicine Higher Education Paper Award (Second Prize), National CM Higher Education Association (CMEA), 2014
Serve as a teacher for several major courses in the Bachelor of Chinese Medicine programme and taught postgraduate programme (Master of Chinese Medicine and Master of Acupuncture) as well as the course for Bachelor of Nursing programme. I supervised taught postgraduate students for their dissertation each year.

Courses taught in the past 8 years in School of Chinese Medicine, HKU:
- BCHM1601 Foundation Theories of Chinese Medicine (中醫基礎理論)
- BCHM1602 Diagnostics of Chinese Medicine (中醫診斷學)
- BCHM1901 Introduction to Chinese Medical Cultures (中醫文化導讀)
- BCHM3801 Introduction to Chinese Medicine and Nursing
- BCHM4601 Treatise on Exogenous Febrile Diseases (傷寒論)
- MCHM6205 Experimental Acupuncture (實驗針灸學, Course Coordinator)
- MCHM6100 Research Methodology in Chinese Medicine (中醫科研思路與方法)
- MCHM6302 Classic Literature of Chinese Medicine (中醫經典原著研究)
- MCHM6501 Evidence-based Medicine (循證醫學, Course Coordinator)
- MMPH6187 Current Research and Development of Chinese Medicines
- NURS2505 Introduction to Chinese Medicine and Nursing
- Inter-professional team-based learning (IPTBL) - Multiple Drugs and Complementary Therapies
(*co-first authors; # corresponding author(s). Journals by Rank by Journal Citation Reports)
As the first author or corresponding author
Yu JT*, Hu XW*, Chen HY*, Yang Q, Li HD, Dong YH, Zhang Y, Wang JN, Jin J, Wu YG, Li J, Ge JF, Meng XM.DNA methylation of FTO promotes renal inflammation by enhancing m6A of PPAR-α in alcohol-induced kidney injury. Pharmacological Research. 2020 Nov:105286. DOI: 10.1016/j.phrs.2020.105286. (IF: 5.893, 19/271 in Pharmacology&Pharmacy)
Chen Y, Xiang XY, Chin KHR, Gao J, Wu J, Lao L, Chen HY#. Acupressure for labor pain management: A systematic review and meta-analysis of randomized controlled trials. Acupuncture in Medicine. 2020 Aug 18;964528420946044.doi: 10.1177/0964528420946044 (IF: 2.637,  6/27 in Integrative&Complementary Medicine)
Chen HY*, Wang C*, Zhou MJ, Chan PY, Yam LL, Lam WL, Leung KP, Li SW, Tsang WY, Ng BFL, Ziea ETC, Yeung WF#, Lao L#. Electroacupuncture on Post-Stroke Overactive Bladder: A Multi-site Pilot Randomized Controlled Trial. Acupuncture in Medicine 2020 Jul 9;964528420925488. doi: 10.1177/0964528420925488. (IF: 2.637, 6/27 in Integrative&Complementary Medicine)
Wu WF*, Wang JN*, Lia Z*, Wei B, Jin J, Gao L, Li HD, Li J, Chen HY#, Meng XM#. 7-hydroxycoumarin protects against cisplatin-induced acute kidney injury by inhibiting RIPK1/RIPK3/MLKL-mediated necroptosis and promoting Sox-9-mediated tubular epithelial cell proliferation. Phytomedicine. 2020 Mar 2;69:153202. doi: 10.1016/j.phymed.2020.153202. (IF: 4.180, 1/27 in Integrative&Complementary Medicine)
Yang Q*, Chen HY*, Wang JN*, Han HQ, Jiang L, Wu WF,  Wei B, Gao L, Ma QY, Liu XQ, Chen Q, Wen JG, Jin J, Huang Y, Ni WJ, Ma TT, Li J, Meng XM#. Alcohol promotes renal fibrosis by activating Nox2/4-mediated DNA methylation of Smad7. Clin Sci (Lond). 2020 Jan 31;134(2):103-122. doi: 10.1042/CS20191047. (IF: 5.237, 19/136 in Research & Experimental Medicine)
You YK*, Luo Q*, Wu WF, Zhang JJ, Zhu HJ, Lao L, Lan HY, Chen HY#, Cheng YX#. Petchiether A attenuates obstructive nephropathy by suppressing TGF-β/Smad3 and NF-κB signalling. J Cell Mol Med. 2019 Aug;23(8):5576-5587. doi: 10.1111/jcmm.14454. Epub 2019 Jun 18. (IF: 4.658,  31/136 in Research & Experimental Medicine)
Chen HY, Liu NY#. Analgesic Effect of Sinew Acupuncture for Patients with Soft-Tissue Injuries: A Pilot Trial. Chin J Integr Med., 2019 Aug;25(8):613-616. doi: 10.1007/s11655-019-3061-3. Epub 2019 Jan 18. (IF: 1.445, 17/27 in Integrative&Complementary Medicine)
Chen HY, Yang MX, Ning ZP,  Lam WL, Zhao YK, Yeung WF, Ng LBF, Ziea ETC, Lao L#. A Guideline for Randomized Controlled Trials of Acupuncture. Am J Chin Med. 2019;47(1):1-18. doi: 10.1142/S0192415X19500010. (IF: 3.510, 3/27 in Integrative&Complementary Medicine)
Chen HY, Yang MX, Lao L#. Acupuncture for Women Undergoing In Vitro Fertilization (Letter to editor). JAMA-Journal of the American Medical Association. 2018 Oct 2;320(13):1385. doi: 10.1001/jama.2018.10538. (IF: 51.273, 3/160 in General&Internal Medicine)
Cho CSW. Cui L. Chen HY#. Clinical efficacy of acupoint embedment in weight control: a systematic review and meta-analysis. Medicine (Baltimore). 2018 Sep;97(36):e12267. doi: 10.1097/MD.0000000000012267. (IF: 1.870, 69/160 in General&Internal Medicine)
Au KY, Chen HY#, Lam WC, Chong CO, Lau A, Vardhanabhuti V, Mak KC, Jiang F, Lam WY, Wu FM, Chan HN, Ng YW, Ng BF, Ziea ET, Lao L. Sinew acupuncture for knee osteoarthritis: study protocol for a randomized sham-controlled trial. BMC Complement Altern Med. 2018 Apr 23;18(1):133. doi: 10.1186/s12906-018-2195-8. (IF:2.479, 8/27 in Integrative&Complementary Medicine)
Zhong X, Tu YJ, Li Y, Zhang P, Wang W, Chen SS, Li L, Chung AC, Lan HY, Chen HY#, Li GS#, Wang L#. Serum levels of WNT1-inducible signaling pathway protein-1 (WISP-1): a noninvasive biomarker of renal fibrosis in subjects with chronic kidney disease. Am J Transl Res 2017;9(6):2920-2932. (IF: 3.266, 58/136 in Research & Experimental Medicine)
Chen HY, Ning Z, Lam WL, Lam WY, Zhao YK, Yeung YF, Ng BFL, Ziea ETC, Lao L#. Types of Control in acupuncture clinical trials might affect the conclusion of the trials: a review of acupuncture on pain management. JAMS. 2016 Oct;9(5):227-233. doi: 10.1016/j.jams.2016.08.001 (no impact factor)
Chen HY, Lan HY, Roukos DH, Cho WC#. Application of microRNAs in diabetes mellitus. J Endocrinol. 2014 Jul; 222(1):R1-R10. doi: 10.1530/JOE-13-0544  (IF: 4.381, 31/145 in Endocrinology&Metabolism)
Chen HY, Feng Y, Lao L#. Chinese integrative medicine: inclusion of a Chinese medicine programme in a conventional medical institute. J Integr Med. 2014 May;12(3):187-90. doi: 10.1016/S2095-4964(14)60027-3. (impact factor to be announced this June)
Chen HY, Zhong X, Huang XR, Meng XM, Chung ACK, Lan HY#. MicroRNA-29 Inhibits Diabetic Nephropathy by blocking Th1-NF-κB-TGF-β/Smad Pathways. Molecular Therapy,2014 Apr;22(4):842-53. doi: 10.1038/mt.2013.235. (IF: 8.402, 8/136 in Research & Experimental Medicine)
Chen HY, Ma CH, Cao KJ, Ho JCM, Ziea E, Wong VT, Zhang ZJ#. A Systematic Review and Meta-Analysis of Herbal Medicine on Chronic Obstructive Pulmonary Diseases. Evidence-Based Complementary and Alternative Medicine, 2014, 11. doi: 10.1155/2014/925069. (IF: 1.984, 10/27 in Integrative&Complementary Medicine)
Chen HY, Li SG, Cho WCS, Zhang ZJ#. The Role of Acupoint Stimulation as an Adjunct Therapy for Lung Cancer: a Systematic Review and Meta-analysis. BMC Complementary and Alternative Medicine2013 Dec;13:362.doi:10.1186/1472-6882-13-362. (IF:2.479, 8/27 in Integrative&Complementary Medicine)
Li SG*, Chen HY*, Ou-Yang CS, Wang XX, Yang ZJ, Tong Y#, Cho WC#. The Efficacy of Chinese Herbal Medicine as an Adjunctive Therapy for Advanced Non-small Cell Lung Cancer: A Systematic Review and Meta-analysis. PLOS One. 2013;8(2):e57604. doi: 10.1371/journal.pone.0057604. (IF: 2.776, 24/69 in Multidesciplinary Sciences)
Zhong LD*, Chen HY*, Cho WCS, Meng XM, Tong Y#. The efficacy of Chinese herbal medicine as an adjunctive therapy for colorectal cancer: a systematic review and meta-analysis. Complementary Therapies in Medicine. 2012 March 3. doi:10.1016 /j.ctim.2012.02.004. (IF:1.979, 11/27 in Integrative&Complementary Medicine)
Chen HY, Huang XR, Wang W, Li JH, Heuchel RL, Chung AC, Lan HY#. The protective role of Smad7 in diabetic kidney disease: mechanism and therapeutic potential. Diabetes. 2011 Feb;60(2):590-601. (IF: 7.199, 11/145 in Endocrinology&Metabolism)
Liu Fei*, Chen HY*, Huang Xiao R, Chung Arthur CK, Zhou Li, Fu Ping, Szalai A. J., Lan HY#. C-reactive protein promotes diabetic kidney disease in a mouse model of type 1 diabetes. Diabetologia. 2011 54(10):2713-2723. (IF: 7.113, 12/145 in Endocrinology&Metabolism)
Cho WCS*, Chen HY*. Clinical Efficacy of Traditional Chinese Medicine as a Concomitant Therapy for Nasopharyngeal Carcinoma: A Systemic Review and Meta-Analysis. Cancer Invest. 2009; 27:334-344. (IF: 1.962, 184/230 in Oncology)
Chen HY, Sze SCW, Tong Y#. Treatment of menopausal symptoms with Er-xian decoction: a systematic review. Am. J. Chin. Med. 2008;36(2):233-44. (IF: 3.510, 3/27 in Integrative&Complementary Medicine)
Chen HY#, Shi Y, Ng CS, Chan SM, Yung KK, Zhang QL. Auricular acupuncture treatment for insomnia: a systematic review. J Altern Complement Med. 2007 Jul-Aug;13(6):669-76. (IF: 1.868, 12/27 in Integrative&Complementary Medicine)
As co-authors
Huang M, Zhang W, Chen HY, Zeng J#. Targeting Polyamine Metabolism for Control of Human Viral Diseases. Infect Drug Resist. 2020 Dec 1;13:4335-4346. doi: 10.2147/IDR.S262024. (IF: 2.984,  )
Wang JN, Yang Q, Yang C, Cai YT, Xing T, Gao L, Wang F, Chen X, Liu XQ, He XY, Wei B, Jiang L, Li C, Jin J, Wen JG, Ma TT, Chen HY, Li J, Meng XM#.Smad3 promotes AKI sensitivity in diabetic mice via interaction with p53 and induction of NOX4-dependent ROS production. Redox Biol. 2020 Feb 26;32:101479. doi: 10.1016/j.redox.2020.101479. (IF: 7.793, 28/298 in Biochemistry&molecular biology)
Li Y, Yang M, Wu F, Cheng K, Chen HY, Shen X, Lao L#. Mechanism of electroacupuncture on inflammatory pain: neural-immune-endocrine interactions. J Tradit Chin Med. 2019 Oct;39(5):740-749. (IF:0.907, 23/27 in Integrative&Complementary Medicine)
Mak TC, Chen HY, Cho WC#. Acupuncture for overactive bladder in adults: a systematic review and meta-analysis. Acupunct Med. 2019 Aug 21:acupmed2017011528. doi: 10.1136/acupmed-2017-011528. (IF: 2.637, 6/27 in Integrative&Complementary Medicine)
Cheung DST, Yeung WF, Suen LK, Chong TC, Ho YS, Yu BY, Chan LY, Chen HY, Lao L#.Self-administered acupressure for knee osteoarthritis in middle-aged and older adults: a pilot randomized controlled trial. Acupunct Med. 2019 Nov 13:964528419883269. doi: 10.1177/0964528419883269. (IF: 2.637, 6/27 in Integrative&Complementary Medicine)
Ying J, Zhou M, Chen HY, Chen L, Zhang W, Ji J, Chao Yu, Zhang ZJ#. A Double-blind, Randomized Controlled Trial of Essential Oil for Chronic Prostatitis/Chronic Pelvic Pain Syndrome. Chinese Journal of Integrative Medicine, 2018 Jun 8. doi: 10.1007/s11655-018-2797-5. (IF: 1.445, 17/27 in Integrative&Complementary Medicine)
Liu JY, Chen XX, Chen HY, Shi J, Leung GP, Tang SC, Lao LX, Yip HK, Lee KF,Sze SC, Zhang ZJ, Zhang KY#. Downregulation of Aquaporin 9 Exacerbates Beta-amyloid-induced Neurotoxicity in Alzheimer's Disease Models In vitro and In vivo. Neuroscience. 2018 Dec 1;394:72-82. doi:10.1016/j.neuroscience.2018.09.016. Epub 2018 Sep 26. PubMed PMID: 30266683.( IF: 3.24,  114/267 in Neurosciences)
Song TH, Chen X, Lee CKF, Sze SCW, Feng YB, Yang ZJ, Chen HY, Li ST, Zhang LY, Wei G, Shi J, Xua K, Ng TB, Zhu LL, Zhang KYB#. Dendrobine targeting JNK stress signaling to sensitize chemotoxicity of cisplatin against non-small cell lung cancer cells in vitro and in vivo. Phytomedicine. 2019; 53:18-27, doi:10.1016/j.phymed.2018.06.018. (IF: 4.180, 1/27 in Integrative&Complementary Medicine)
Lee E, Xie Y, Chen H, Meng W#. Systematic Review of Chinese Medicine for Ovarian Endometriosis. International Journal of Pharmacognosy and Chinese Medicine.2017; 1(3): 1-8. (no impact factor)
Lam WL, Yeung WF, Wong MK, Cheung CW, Chan KKL, Ngan HYS, Wong CKH, Chen HY, Lao L#. Combined electroacupuncture and auricular acupuncture for postoperative pain after abdominal surgery for gynecological diseases: study protocol for a randomized controlled trial. Trials. 2018 Jan 4;19(1):8. doi: 10.1186/s13063-017-2359-8. (IF: 1.975,  96/136 in Research & Experimental Medicine)
Chan LK, Ganotice F Jr, Wong FKY, Lau CS, Bridges SM, Chan CHY, Chan N, Chan PWL, Chen HY, Chen JY, Chu JKP, Ho CC, Ho JMC, Lam TP, Lam VSF, Li Q, Shen JG, Tanner JA, Tso WWY, Wong AKC, Wong GTC, Wong JYH, Wong NS, Worsley A, Yu LK, Yum TP. Implementation of an interprofessional team-based learning program involving seven undergraduate health and social care programs from two universities, and students' evaluation of their readiness for interprofessional learning. BMC Med Educ. 2017 Nov 21;17(1):221. doi: 10.1186/s12909-017-1046-5. (IF: 1.870, 79/243 in Eudcation&Educational Research)
Liu Z, Huang XR, Chen HY, Fung Erik, Liu J, Lan HY#. Deletion of Angiotensin-Converting Enzyme-2 Promotes Hypertensive Nephropathy by Targeting Smad7 for Ubiquitin Degradation. Hypertension. 2017 Oct; 70(4):822-830. doi: 10.1161/HYPERTENSIONAHA.117.09600. (IF: 7.017,  13/201 in Peripheral Vascular Disease)
Yeung WF, Ho  Fiona YY, Chung KF, Yu Branda YM, Suen Lorna, Chan YT, Chen HY, Ho LM, Lao L#. Self-administered Acupressure for Insomnia Disorder: A Pilot Randomised Controlled Trial. Journal of Sleep Research, 2017 Sep 8. doi: 10.1111/jsr.12597. (IF: 3.432,  61/199 in Clinical Neurology )
Wei W, Chen HY, Fan W, Ye SF, Xu YH, Cai J#. Chinese medicine for idiopathic Parkinson's disease: A meta analysis of randomized controlled trials. Chinese Journal of Integrative Medicine. 2017 Jan;23(1):55-61. doi: 10.1007/s11655-016-2618-7. (IF: 1.445, 17/27 in Integrative&Complementary Medicine)
You YK, Huang XR, Chen HY, Lyu XF, Liu HF, Lan HY#. C-Reactive Protein Promotes Diabetic Kidney Disease in db/db Mice via the CD32b-Smad3-mTOR signaling Pathway. Sci Rep. 2016 May 25;6:26740. doi: 10.1038/srep26740. (IF: 4.011, 15/69 in Multidisciplinary Sciences)
Huang L, You YK, Zhu TY, Zheng LZ, Huang XR, Chen HY, Yao D, Lan HY#, Qin L#. Validity of leptin receptor-deficiency (db/db) type 2 diabetes mellitus mice as a model of secondary osteoporosis. Sci Rep. 2016 Jun 10;6:27745. doi: 10.1038/srep27745. (IF: 4.011, 15/69 in Multidisciplinary Sciences)
Wang J, Chu ES, Chen HY, Man K, Go MY, Huang XR, Lan HY, Sung JJ, Yu J#. microRNA-29b prevents liver fibrosis by attenuating hepatic stellate cell activation and inducing apoptosis through targeting PI3K/AKT pathway. Oncotarget. 2015 Mar 30;6(9):7325-38. PMID: 25356754. (IF: 5.008 in 2015, no impact factor now)
Zhao BX, Chen HY, Shen XY, Lao L#. Can moxibustion, an ancient treatment modality, be evaluated in a double-blind randomized controlled trial? - A narrative review. J Integr Med. 2014 May;12(3):131-134. doi: 10.1016/S2095-4964(14)60024-8. (no impact factor)
Liu GX, Li YQ, Huang XR, Wei LH, Zhang Y, Feng M, Meng XM, Chen HY, Shi YJ, Lan HY#.Smad7 inhibits Ang II-mediated hypertensive nephropathy in a mouse model of hypertension.Clin Sci (Lond). 2014 Aug;127(3):195-208. doi: 10.1042/CS20130706. (IF: 5.237, 19/136 in Research & Experimental Medicine)
Wei LH, Huang XR, Zhang Y, Li YQ, Chen HY, Yan BP, Yu CM, Lan HY#.Smad7 Inhibits Angiotensin II-induced Hypertensive Cardiac Remodeling. Cardiovasc Res. 2013;99(4):665-73. doi: 10.1093/cvr/cvt151. (IF: 7.014,  12/136 in Cardiac&Cardiovasuclar Systems)
Zhong X, Chung AC, Chen HY, Dong Y, Meng XM, Li R, Yang W, Hou FF, Lan HY#. miR-21 is a key therapeutic target for renal injury in a mouse model of type 2 diabetes. Diabetologia. 2013 Mar;56(3):663-74. doi: 10.1007/s00125-012-2804-x. (IF: 7.113, 12/145 in Endocrinology&Metabolism)
Wei LH, Huang XR, Zhang Y, Li YQ, Chen HY, Heuchel R, Yan BP, Yu CM, Lan HY#. Deficiency of Smad7 Enhances Cardiac Remodeling Induced by Angiotensin II Infusion in a Mouse Model of Hypertension. PLoS One. 2013; 8(7):e70195. doi: 10.1371/ journal.pone.0070195. (IF: 2.776, 24/69 in Multidesciplinary Sciences)
Liu GX, Li YQ, Huang XR, Wei LH,  Chen HY, Shi YJ, Heuchel Rainer L, Lan HY#. Disruption of Smad7 promotes ANG II-mediated renal inflammation and fibrosis via Sp1-TGF-beta/Smad3-NF.kappaB-dependent mechanisms in mice. PLoS One. 2013;8(1): e53573. doi: 10.1371/journal.pone.0053573. (IF: 2.776, 24/69 in Multidesciplinary Sciences)
Meng XM, Huang XR, Xiao J, Chen HY, Zhong X, Chung AC, Lan HY#. Diverse roles of TGF-ß receptor II in renal fibrosis and inflammation in vivo and in vitro. J Pathol. 2012 Jun; 227 (2):175-88. doi: 10.1002/path.3976. (IF: 5.942, 8/76 in Pathology)
Meng XM, Huang XR, Xiao J, Chung AC, Qin W, Chen HY, Lan HY#. Disruption of Smad4 impairs TGF-ß/Smad3 and Smad7 transcriptional regulation during renal inflammation and fibrosis in vivo and in vitro. Kidney Int. 2012 Feb;81(3):266-79. doi: 10.1038/ki.2011.327. (IF: 8.306,  5/80 in Urology&Nephrology)
Liu Z, Huang XR, Chen HY, Penninger JM, Lan HY#. Loss of angiotensin-converting enzyme 2 enhances TGF-β/Smad-mediated renal fibrosis and NF-κB-driven renal inflammation in a mouse model of obstructive nephropathy. Lab Invest. 2012 Feb 13. doi: 10.1038/labinvest.2012.2. (IF: 3.684, 49/136 in Research&Experimental Medicine)
Zhong Xiang, Chung ACK, Chen HY, Meng XM, Lan HY#. Smad3-mediated upregulation of miR-21 promotes renal fibrosis. Journal of the American Society of Nephrology. 2011 Sep 22(9):1668-81. (IF: 8.547, 4/80 in Urology&Nephrology)
Zhou L, Liu F, Huang XR, Liu F, Chen HY, Chung AC, Shi J, Wei L, Lan HY#, Fu P#. Amelioration of Albuminuria in ROCK1 Knockout Mice with Streptozotocin-Induced Diabetic Kidney Disease. Am J Nephrol. 2011 Oct 4;34(5):468-475. (IF: 2.961, 20/80 in Urology&Nephrology)
Zhang ZJ, Chen HY, Yip KC, Ng R, Wong VT. The effectiveness and safety of acupuncture therapy in depressive disorders: systematic review and meta-analysis. J Affect Disord. 2010 Jul;124(1-2):9-21. (IF: 4.084, 21/142 in Psychiatry)
Cho WCS, Chen HY. Transcatheter arterial chemoembolization combined with or without Chinese herbal therapy for hepatocellular carcinoma: meta-analysis. Expert Opinion On Investigational Drugs. 2009;18(5):617-35. (IF: 4.031,  51/267 in Pharmacology&Pharmacy)
PUBLICATIONS (Chinese)
葉俊宏, 溫 熙, 林嘉豪, 張俊曦, 廖冠雄, 文曦兒, 劉明藝, 黃曆恒, 朱南孫, 李啟輝, 張艶波, 石軍, 趙佳, 陳海勇, 張樟進, 勞力行, 孟煒. 中醫臨床專方治療子宮內膜異位症型痛經及相關實驗研究分析. 中醫學. 2019, 8(4):254-261.
陆怡衡,裴霞,陈海勇,黄飞霞,周立群,孙灵芝,甄雪燕,宋佳,赵艳,劳力行.胡焕章教授"气血病机的临床思维"[J].环球中医药,2018(04):554-556.
宋佳,孫靈芝,甄雪燕,趙艶,鄭越,勞力行,陳海勇,裴霞,陸怡衡,黃飛霞,周立群. 論外感與內傷的統一性[J]. 新中醫,2017,49(07):174-177.
黃飛霞,陳海勇,裴霞,陸怡衡,周立群,勞力行,宋佳,孫靈芝,甄雪燕,趙艷,鄭越. 胡煥章運用"知常達變"治療脾胃病經驗[J]. 河北中醫,2017,(06):805-808+818.
甄雪燕,周立群,宋佳,孫靈芝,趙艷,鄭越,勞力行,陳海勇,裴霞,陸怡衡,黃飛霞. 胡煥章教授談"和法"[J]. 時珍國醫國藥,2016,(11):2760-2761.
孫靈芝,宋佳,甄雪燕,趙艷,鄭越,勞力行,陳海勇,裴霞,陸怡衡,黃飛霞,周立群. 全國名老中醫胡煥章對中西醫學互補理論的闡釋[J]. 世界中西醫結合雜誌,2016,(12):1645-1649.
張曉雨,寧志鵬,陳海勇,勞力行. 針刺治療膝骨性關節炎的臨床試驗結果與對照組設置相關性研究的系統分析. 中國疼痛醫學雜志, 2015,21(10):732-737
李秀珍,陳海勇,鄭驍,劉農虞. 针刺配合牵引治疗腰椎间盘突出症的系统评价.中國針灸 [Acupuncture combined with traction therapy for lumbar disc herniation: a systematic review].[Article in Chinese] Zhongguo Zhen Jiu. 2014 Sep;34(9):933-40. PMID: 25509761
楊頴輝, 陳海勇, 鍾家輝, 張樟進. 傳統中醫療法治療失眠的臨床試驗——現狀與展望.世界睡眠醫學雜誌, 2014, 1(1):54-58
陳海勇.仲景運用大黃配伍規律之探討. 中醫藥實證醫學雜誌,2013,6(1):39-46
童瑤,陳海勇.中醫臨床研究的現狀與展望.中醫藥實證醫學雜誌,2009,2(1):22-30
陳海勇,童瑤. 試論張仲景運用細辛的規律.上海中醫藥大學學報. 2007,21(3):12-14
應薦,陳海勇,徐福松. 補腎滋陰法對腎上腺皮質激素型腎陰虛大鼠睾丸組織超微結構的影響. 中西醫結合學報,2006,4(6):620-623.
陳海勇,房偉略. 《傷寒論》探"煩". 江蘇中醫藥, 2005,26(6): 7-8
陳海勇. 《傷寒論》下利探析.《中醫雜誌》增刊. 2005年
BOOKS AND CHAPTERS
Chen HY, Yao Tong. Chapter 1 Systematic Reviews and Meta-analyses. Professional English for Research in Traditional Chinese Medicine. People's Medical Publishing House. In press
Lixing Lao, Chen HY. Chapter 6 How to Design, Conduct and Report a Randomized Controlled Trial (RCT) on Acupuncture. Professional English for Research in Traditional Chinese Medicine. People's Medical Publishing House. In press
張樟進, 楊頴輝,陳海勇.第11章 中药精神药理和临床应用.《精神药理学》刘吉成,艾静主編(第2版)(十三五规划教材).北京:人民卫生出版社.2016年11月.Pp247-261
Chen HY, Lixing Lao. Chapter 13 Challenges in Evaluating Acupuncture Trials. Acupuncture in Pain Management.(Editor, Lucy Chen; ISBN: 978-1-63463-047-4). New York: Nova Science Publishers,Inc.2014.4th Quarter.Pp163-172
張樟進,陳海勇.第21章 强迫症.《中醫情志病學》.曲麗芳,張葦航主編.上海:上海科學技術出版社.2015年1月.Pp213-218
張樟進,陳海勇.第5章 狂病.《中醫情志病學》.曲麗芳,張葦航主編.上海:上海科學技術出版社.2015年1月.Pp70-75
藍輝耀,陳海勇. 第30章TGF-β/Smad系統與腎臟炎癥和纖維化調節.《生理科學進展》.王建军、王晓民主编(字数:1300千字;全书798页;ISBN:  978-7-04-039835-9). 北京:高等教育出版社.2014. Pp448-462
Associate Editor
1. Frointer in Physiology
2. International Journal of Pharmacognosy & Chinese Medicine